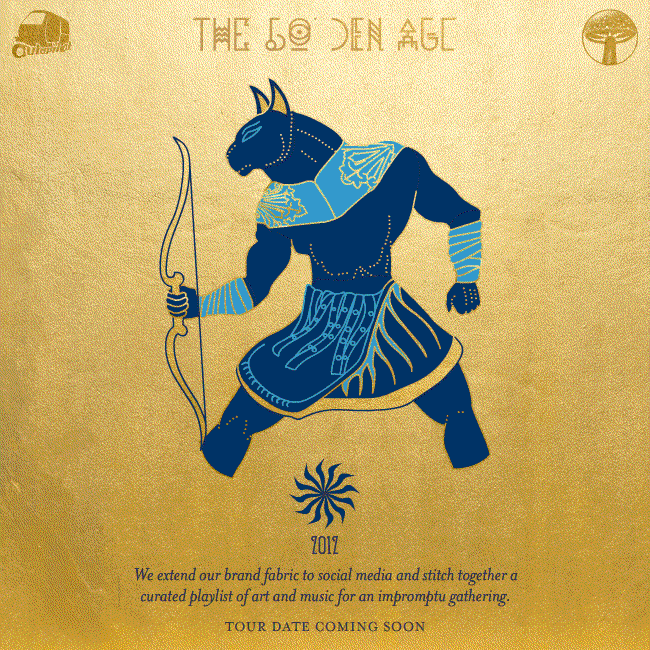 Tropical plants, a totem-like sculpture and an antique chair set the stage for the hullabaloo that is brewing. The projections of our animated warriors shift in and out of shadows as soft lights toy with the ambience. Our audience walk in - "Be Golden or wear a beard" says one of the Golden Guides. Our impromptu models take position. Armed with a camera, the Station Master takes aim and blasts his flash. The first part of the Grand Tour has now begun.
As the music plays in the background, he narrates of a past time and captures the present. He talks about how photo-projections and music, laid the foundation for autopilot in its early years (2004). He is the Station Master of the Photo Booth. The models get comfortable, the Golden Elixir is being passed around. By midnight, all animals have been captured. The images take form within the dark room. While processing, development and quality tests come to pass on multiple screens, only the best compositions of darkness and vivid expressions make the cut

.
The featured pictures are some of the ingredients we created for our studio launch celebration. To begin the journey, the Golden Ticket was presented to each individual that attended the show. The Grand Tour, which was led by our Golden Guides and Station Masters, featured the Photo Booth, The Recorder, Gyaan Room and the Swing Session. To round up the extravagance, limited edition bags were handed out as giveaways. The bounty: goodies in the form of chocolates, the gold edition sticker, a notebook and our cards.
Kahoryao H Woleng, Jacob Cheria, Chandra Mouli, PV Swaran, Lubomir Jabbanda, Suresh Jayaram